WHY SUEDE BELTS ARE SO POPULAR
Discover the sleek, elegant and velvet-like leather that is suede
Our braided suede belt Brunello
Suede leather has been very popular for a long time and continues to be one of the most frequently used leathers in fashion. Suede can be found in virtually all colours and excels due to its soft surface structure. Suede is considered split leather as it is created from the lower part of the hide (Corium) after it is split off the upper grain layer. To get its signature soft touch the leather is sanded and abraded to the point of extreme, almost velvety, softness. Despite close in appearance and feel, suede is softer and more workable than its close cousin nubuck. You'll find many more information on the difference between nubuck and suede as well as leather quality in general in our leather grades article.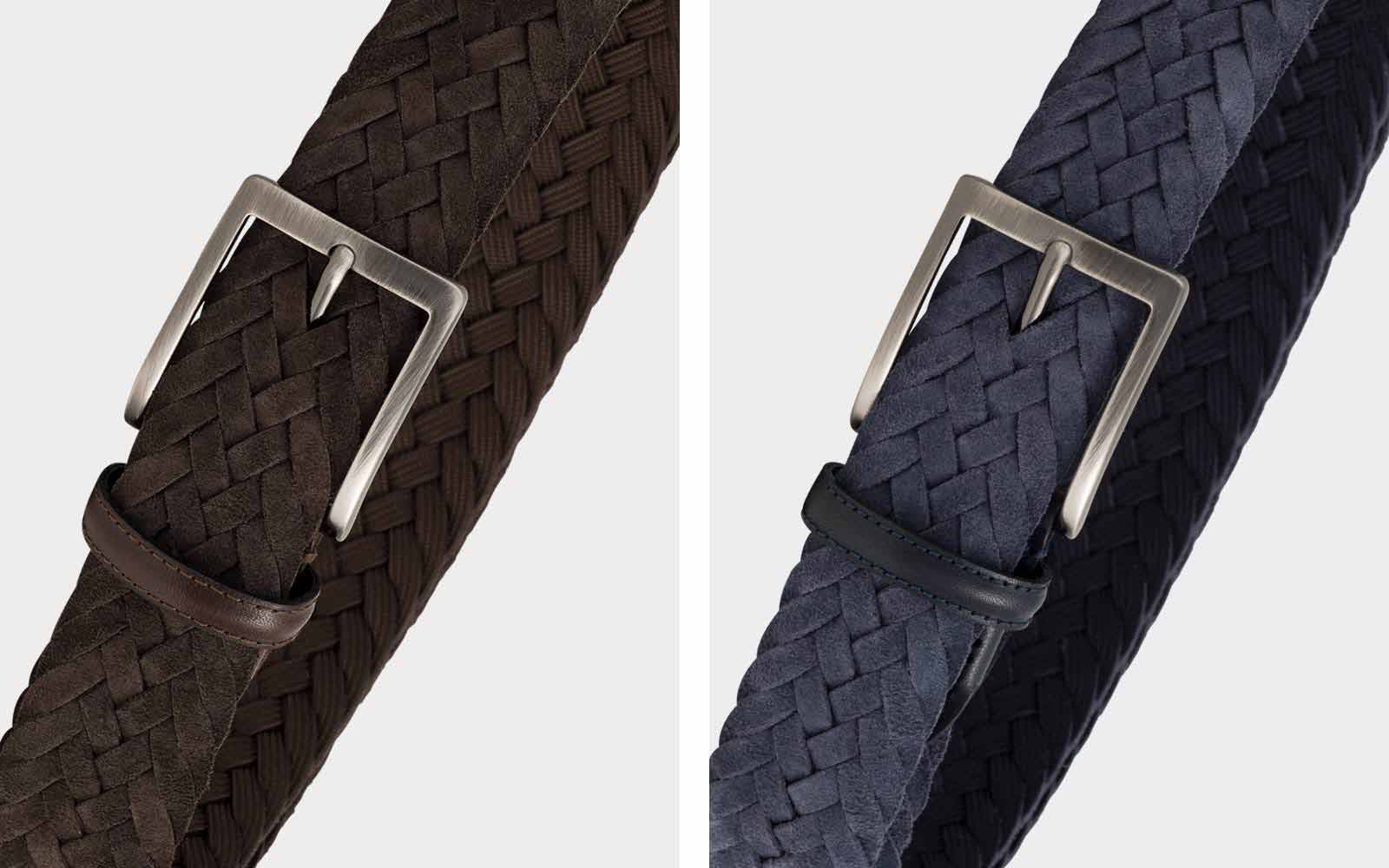 Our braided suede leather belts Edoardo (left) and Massimiliano (right)
Why are suede belts so popular?
As highlighted in our extensive belt guide, there are two types of belts: classic and casual. Classic belts, like our Fernando, are generally simple leather belts and considered the belt of choice for the office. Casual belts, on the other side, are made of a wider variety of materials and offer a greater color pallet. Usually mixing a formal outfit with a casual belt and vice versa does not look too great. There is one exception, however, which manages to bridge the gap between formal and casual and works well with virtually any outfit: suede belts. Besides its lush touch and elegant appearance, that is one of the main reasons why they have gained such popularity. It also goes hand in hand with the renaissance of suede Chelsea Boots and suede loafers, moccasins and driving shoes. Not only colour-matching but also material-matching your belt and shoes makes for a great look which shows stylistic sophistication and attention to detail.
Our braided suede belt collection for men. Find them all here.
How to pull off the Suede Belt
When looking at suede belts, you have to separate braided and non-braided belts. Both work well for casual and formal outfits but braided suede belts lean more towards casual outfits and non-braided ones towards formal outfits. Below you'll find some outfit ideas for how to rock a woven suede belt. To take a look at our men's collection, click here. All of our woven suede belts, are crafted in Italy by revered artisan. To learn more about our manufactory, click here.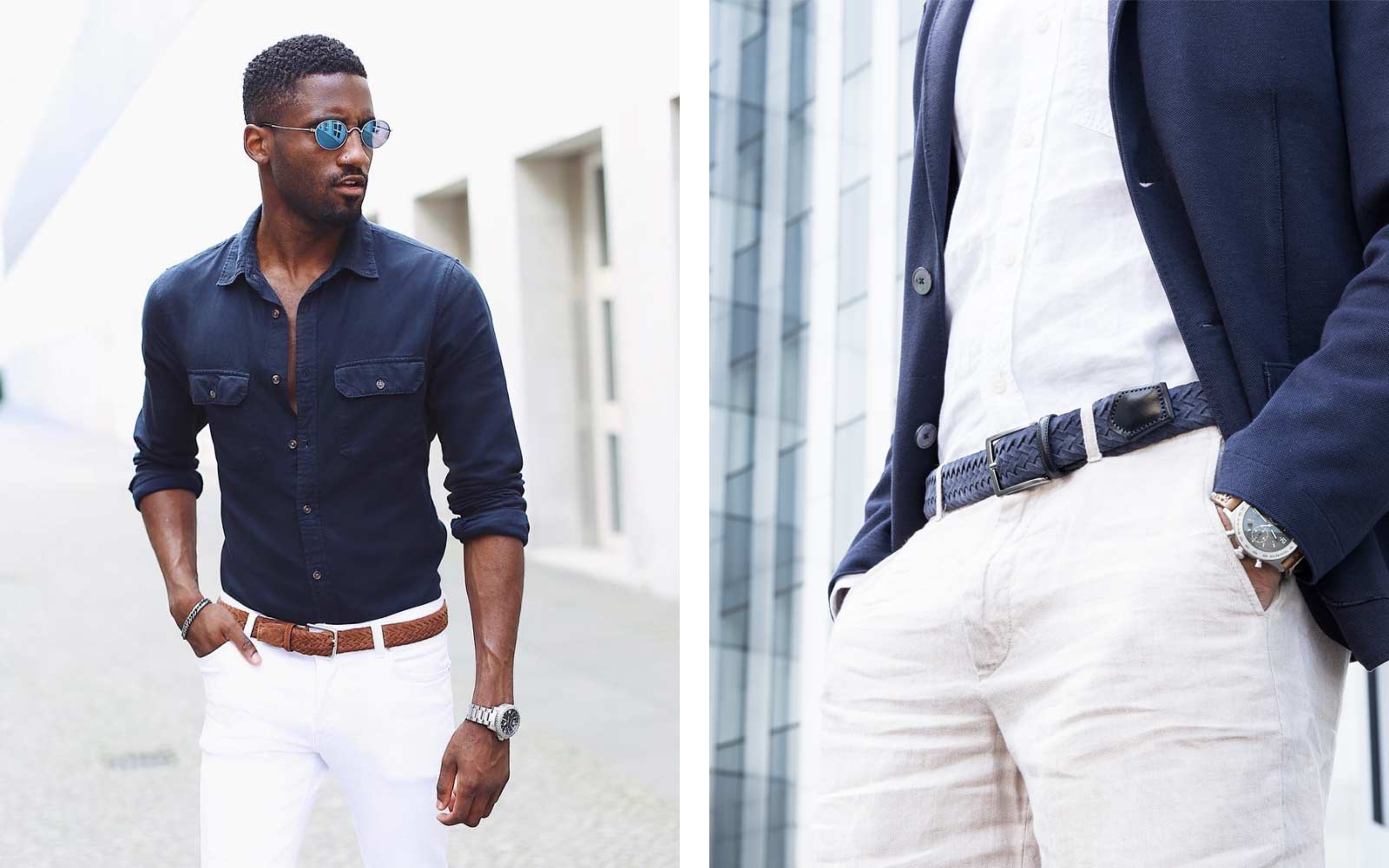 How to care for suede
The grinded and napped surface structure of suede is a little more susceptible to dirt than full-grain leather. That's why regular care will ensure a long life of your belt. When in doubt, we recommend professional care but if you intend to clean your suede leather on your own, apply following care instructions:
1) Try removing smaller dry stains or scuff marks with a clean bath towel, a clean pencil eraser, an old toothbrush or, ideally, a suede brush. Whichever tool you use, make sure to brush in one consistent direction using short strokes. This will bring up the nap and restore the unique suede texture.
2) For smaller stains which are still wet, place a paper towel on them and affix the towel with a weight. The towel might absorb the fluids. Afterwards use one of the tools mentioned above to bring up the nap enough to make the stain invisible.
3) In case of heavier stains or scuff marks, try using a suede cleaning block. Brush gentle in the same direction and then brush away the remaining residue with your fingers. You can also try rubbing off the stains with a damp towel and some white vinegar. The vinaigrette smell will fade over time.
4) For oil stains, apply a special degreaser leather cleaner for suede on the stain with a cloth and bring the nap up with a suede brush.
5) Avoid using any chemical stain removers.
In case you have any further questions or need some style advice, just send us an email and we'll gladly help out.