MEN'S PECCARY GLOVES BUYING GUIDE
Peccary gloves are amongst the most luxurious and intricate leather items in all of fashion. In the following, we'll take a close look at what makes Peccary gloves so special, how they are crafted, and why they are so expensive.
Our handmade Peccary leather glove Ciro
Where does Peccary Leather come from?
Peccaries are wild animals which are indigenous to the southwest part of North America, Central America, and South America. The legal hunt of peccaries is under rigid CITES-Regulation which controls the number of peccaries that are allowed to be hunted in order to maintain the natural balance of the ecosystem. It is important to note that the leather is only permitted to be sold as a side-product of the legal and sustainable hunt. The raw peccary hides are individually collected and conserved by indigenous hunters and, after many middlemen, finally end up in the tanneries. We will dedicated an entire article to this beautiful leather soon.
Map showing the natural habitat of Peccaries
Why are Peccary gloves so expensive?
Apart from the strictly limited supply of Peccary leathers, there are two other factors which contribute to the steep price of peccary gloves: the natural characteristics of the leather and the craftsmanship required to turn it into gloves.
Gloving leathers not only need to be warm and durable but also flexible enough to offer freedom of movements to the fingers all the while fitting like a second skin. Only very few leathers have these distinctive properties and Peccary is most certainly one of them. It is not only incredibly supple and warm but also astonishingly durable. It is unlikely you will ever destroy Peccary if used normally and the leather will only get softer with time. Additionally, the leather is very breathable which will keep your hands warm without them becoming sweaty. Authentic Peccary leather shows a beautiful unique 3-prong pores pattern giving it a timeless elegant look. Peccary gloves can only be hand-sewn as the machine might harm the leather and there is only a hand full of master glove makers left in the world with the necessary skillset to craft Peccary gloves.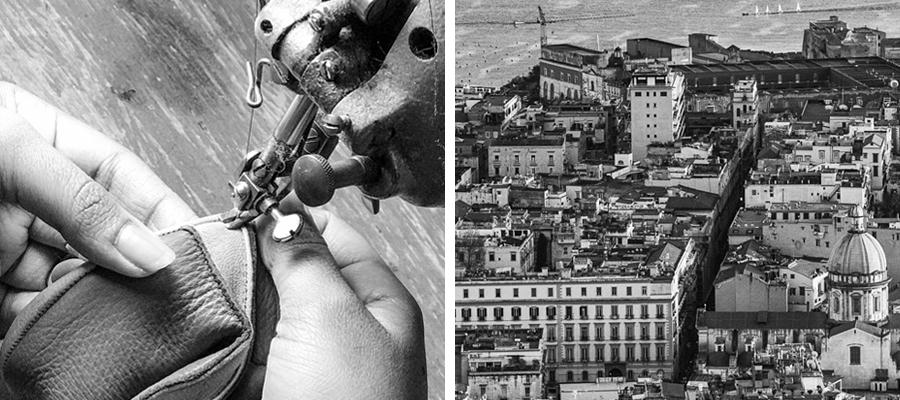 Our Peccary gloves are skillfully handcrafted in Naples, Italy
Handcrafted in Italy
We are incredibly proud to work with one of the most revered glove master families in the world. Located in Napoli, Italy, they have been crafting gloves of superb quality since the middle of the 19th century for many of the top luxury brands. They have successfully adapted to the times by combining traditional craftsmanship and skills handed-down from generation to generation with modern technology. Every single production step from the inspection of the leathers, over the cutting and sewing of the leather, to the ironing is done 100% in house.
The Complex Crafting Process of Our Peccary Gloves
After a rigorous quality check, only the best leathers are worked by a master glove cutter to optimizes the natural stretch of the leather for the perfect fit. Then, the leathers are table-cut, stretched again, and machine-cut with the help of size forms. Next, the gloves are marked, cut, and decorated with points and vents. Then, the leather pieces and soft cashmere lining are hand-stitched together by several seamstresses. Finally, the gloves are carefully ironed to remove any remaining wrinkles and quality-checked one last time.
It can take up to 6 people, over 100 processing steps, 2000 stitches, and up to 8 hours to transform the materials into our Peccary gloves making them not just a regular accessory but a true piece of Italian handicraft.
Our handmade Peccary glove Camillo
How to Wear Peccary Gloves
Since Peccary leather is thicker than, for example, Nappa leather and the gloves are hand-stitched on the outside, they have a slightly chunkier look which works best for more casual chic attires as compared to formal evening clothes. The optic and grain pattern of peccary leather looks amazing when paired with wool or flannel. For many more insights into glove etiquette, take a look at our complete men's glove guide.
Special Detailing
A general rule of thumb says the simpler the glove the more formal its look. That is why we decided to keep our Peccary gloves rather clean with only few detailing.
Closeups of our Peccary leather gloves showing the points, vents and lining
Points
Points are the raised lines of decorative stitching on the backside of the glove which diverge in a waving pattern. Even though you can find varying numbers of points, most dress gloves have three. It is the classic design and most elegant look which is why all of our gloves have three hand-sewn points.
Vents
Vents are small openings at the base of the back side or on the sides of the gloves. They make it easier to put on and take off the gloves while also offering flexibility at the wrist. We have added this handy detail to all of our Peccary gloves.
Linings
For temperatures below 5°C/41°F, we usually recommend glove lining to keep your hands warm. There are many different kinds of linings and only rare luxury leather gloves are lined with incredibly soft and warm cashmere. All of our Peccary gloves have a natural-coloured cashmere lining guaranteeing to keep your hands warm even during the coldest winter days.
Our Peccary gloves Ciro (left), Camillo (middle) and Maurizio (right)
Where to Find Premium Quality Peccary Gloves?
Genuine Peccary leather gloves usually retail anywhere between 275€ and 900€. This extremely high price is due to the production costs, middlemen, retailers, and luxury mark-ups. We only charge for the actual production costs with a small mark-up which is why we can offer premium Peccary leather gloves for only 195€. We have looked everywhere and can guarantee that you will not be able to find handmade Peccary leather gloves at a better price anywhere else, especially not with cashmere lining.
For questions regarding sizing, take a look here. In case you have any further questions about our gloves, designs, glove manufactory etc. simply send us an email.