Find Your Perfect Size

Brands use several different ways to determine belt sizes, which is why we ask you to follow our size guide when choosing one of our belts to avoid any inconvenience down the line.
| Belt size | |
| --- | --- |
| 80/32 | |
| 85/34 | |
| 90/36 | |
| 95/38 | |
| 100/40 | |
| 105/42 | |
| 110/44 | |
Additional notes:
- Put on a pair of pants which represents what you plan to wear, as the thickness of the pants material can influence your hip size.
- If you don't have a flexible tape measure handy, thread a cord, cable, ribbon etc. through the belt loops, mark the spot where it goes around your hip exactly one time, and measure the distance with a regular tape measure.
- The belt pin ideally fits through the middle hole as you will be left with neither too much nor too little residual belt. The length from the middle hole to the belt tip is 15cm/6in (total belt length = belt size + 15cm/6in; example: belt size 95/38 = total belt length 110/44).
How to measure your belt size
Step 1.
Thread a flexible tape measure through the belt loops of well-fitting pants (as you would with a belt.
Step 2.
Mark the spot where the tape reaches exactly one time around your hip. That is your hip size.
Step 3.
Check which hip size interval your measured hip size fits in best and choose the corresponding belt size.

Example: Measured hip size = 93cm/37in therefore belt size = 95/38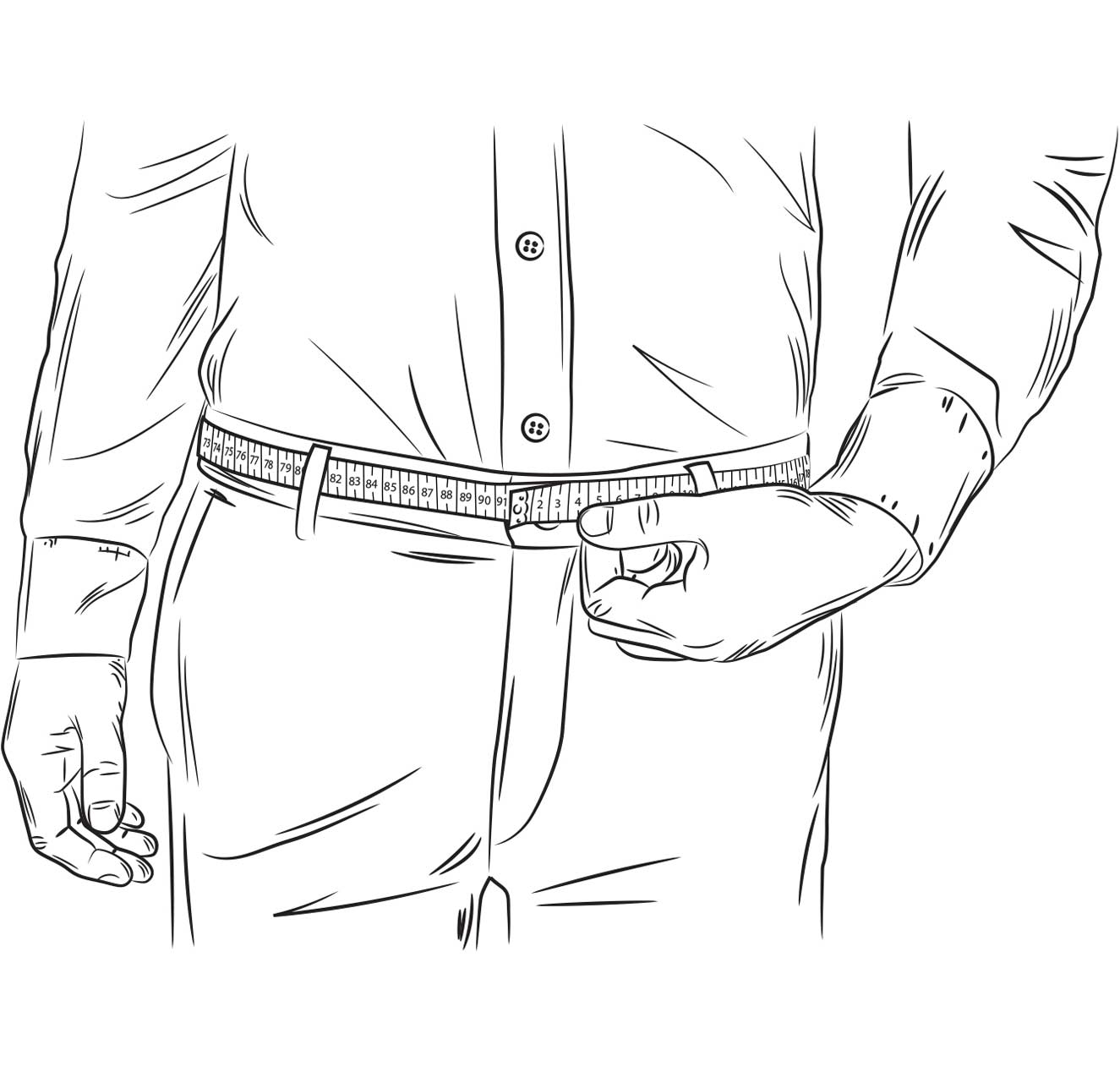 More ways to measure your belt size

Use One Of Your Current Belts
1) Take one of your current belts (even if it does not fit perfectly)
2) Measure the distance from the inner end of the buckle to the hole or spot (for braided belts, there are no holes) which fits you most comfortably. It will be the spot to show the most wear and tear. This is your hip size.
3) Check which hip size interval your hip size fits in best and choose the corresponding belt size.

Size Up Your Jeans
1) Add 3 inches to your current jeans size to get your belt size.
2) Check in our size guide which size fits you best.
Example: 32in jeans size + 3in = 35in hip size therefore 90/36 belt size
Additional note:
- This is the fastest, most convenient but also most inaccurate method.
- This method works best in inches and only for men.

Why are there 5 Belt Holes?
The variety of holes (usually 5 holes spread out 2.5cm/1in) gives your body room for smaller changes and allows you to wear the belt at different waist or hip levels (casual pants are usually worn lower than dress pants). Additionally, your hip size can vary depending on the thickness of the material of your pants and whether you tuck your shirt in or not.

We are currently working on a belt care guide which you will find here soon.
Need help regarding your size?
Our support team stands you by with any sizing questions or other questions you might have.
Live chat with us and speak
to our customer
support in real time.

You may also reach us at
customercare@dalgado.de or
send us a question via our
Contact Us page.

Our support team is available from
9am – 5pm EST, Mo. - Fr.,
and will answer inquiries
as quickly as possible.