ALL YOU NEED TO KNOW ABOUT LEATHER GRADES
The leather industry is opaque, complex, and sometimes intentionally misleading. In order to understand why some leather products are much more expensive than others and to protect oneself from bad purchase decisions, some leather education is necessary. Therefore, we would like to give you a brief and straightforward overview guide to leathers grades.
About Cowhide
Since whole cowhides are quite thick they are usually cut into different layers depending on its application. The two main layers are the grain layer towards the top and the dermal layer (Corium) towards the bottom. The biggest difference between these two layers is the positioning of the so-called collagen fibres (structural proteins in the connective tissue). In the grain part, the fibres are much tighter and stand up nearly vertically, whereas in the corium part they lie flat almost horizontally. The rule of thumb is simple: the more vertical the fibres, the more durable the leather.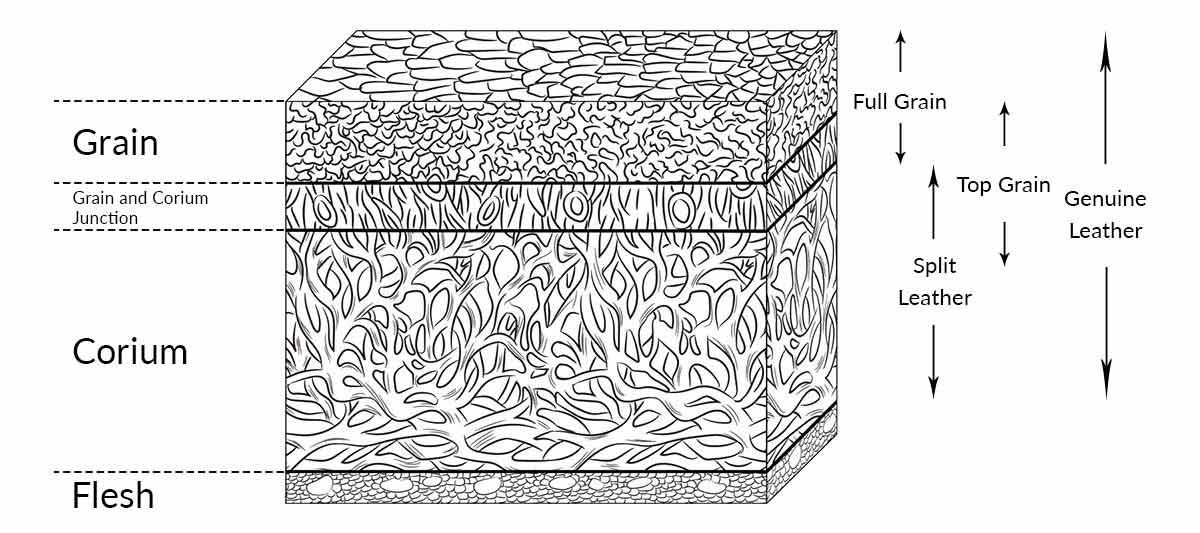 Leather Grades
Even though there is no standardised grading system, most manufactures rank leather grades in the following descending order in terms of durability and authenticity: full-grain leather, top-grain leather, split leather, and bonded leather.
Keep in mind that full-grain leather, top-grain leather, and split leather can all be described as "Genuine Leather" which can be confusing and deceiving. If you want to learn more about Genuine Leathers, click here. It is also important to remember that there are many subcategories of leathers and numerous leather optics, i.e. surface patterns. However, not every optic can be crafted from every leather grade.
Full-grain leather
Full-grain leather comes from the top layer of a hide and has not been processed in any way (i.e., sanded, buffed, or snuffed). Since the grain is left completely intact, the leather offers the greatest degree of fibre strength and breathability, which allows it to develop a beautiful patina during its lifetime. Additionally, the leather maintains its natural blemishes such as scars, wire cuts, insect bites, stretch marks, and neck wrinkles, which fosters its authenticity. Yet, even though some of these markings are cherished, too many of them are disregarded as poor quality. Therefore, only the best hides can be used for full-grain leather, which is why it is considered premium leather. With the exception of the beautiful design alternatives of Nubuck and Palmellato, all leathers used for our classic belts are full grain leathers.
Top-Grain Leather
Contrary to full-grain leather, top-grain leather has been sanded and buffed to enhance workability and eliminate natural blemishes. The refinement of the leather creates a subtle surface, uniformity and greater stain resistance but takes a slight toll on durability.
Nubuck Leather
One of the most prominent kinds of top-grain leathers is Nubuck. It has been buffed to create an extremely soft and luxurious outer surface. The rare combination of durability and suppleness is exactly why we choose Nubuck for some of our designs.
Split Leather
The most common type of leather comes in many forms and has many names but is best known as Split Leather. It is created from the Corium part of the hide after it is split off the grain layer; hence its name. Since split leather is more pliable than grain leather, it can be worked with polyurethane (PU) or polymer coating, artificial grain embossing, and spray-paint to create various leather optics; that is why other synonyms for this leather are finished split, corrected-grain, bicast leather or PU leather. It is also frequently referred to as true leather in comparison to faux leathers.
Suede Leather
A prominent kind of split leather is Suede. It is made out of the split layers from the corium part of the hide, which is scraped and abraded to the point of extreme softness. Due to the loose collagen fibre structure at the bottom of the hide, the resulting nap resembles velvet. Suede is softer and more workable than Nubuck but also bit more susceptible to dirt and stains. In order for suede to maintain its smoothness and suppleness, it should be treated regularly.
Palmellato
Palmellato leather is a close relative to the better known Saffiano leather which was invented by Mario Prada himself. Saffiano leather is famous for its diagonal lines and cross-hatch print which is pressed into the leather coating giving it a slight sheen. The stamping process also gave the leather the name textured leather. Over time many optic alternatives developed; Palmellato was one of them. The main difference to Saffiano is the slightly rounder grain pattern. Just like Saffiano, Palmellato is very resistant to stains, scratches, and water. Due to these unique attributes, many high-end fashion houses frequently use Saffiano or Palmellato leathers for their luxurious products.
Bonded Leather
Similar to shavings from cutting wood, there are leftover leather scraps from splitting and working the hide. Manufacturers bond these leftovers together with an embossed polyurethane coating or latex and call it bonded leather or reconstituted leather. Durability, smell, and texture depend on the varying degree of organic leather in the chemical mix (10%-90%). Even though bonded can portray very nice optics, they are not comparable to grain leathers in terms of quality and durability.