A MEN'S GUIDE TO FINDING THE PERFECT BELT
Let's be honest, buying a belt is easy, right? You just go in a department store, pick out a 4mm thick black or brown leather strap with a shiny silver or golden buckle and call it a day. In the end, who really cares about a belt? You can hardly see it anyway. Well, if that is enough for you that is great.
If, however, you are interested in turning your belt from a merely functional accessory to an accessory capable of making a fashion-forward style statement, then this article is for you. Taste is different for everyone but an ill-fitting or poorly-matched belt can ruin an outfit. Our belt guide will show you how you can step up your belt game.
When to Wear a Belt
As described in our History of the Belt article, belts used to be exclusively functional accessory. Over time, however, the belt transformed its identity to one of the most important decorative accessories for men.
The rule is simple: If your pants have belt loops, wear a belt. Leaving the loops empty looks like you forgot something. That goes especially for formal attire, when your shirt is tucked in. A chic alternative to belts are suspenders. Yet, keep in mind not to wear a belt and suspenders at the same time.
Belt Fit & Size Guide
First things first. Finding the proper size for your belt is essential. That is why we dedicated an entire article to the topic of how you can find your perfect belt size. We'll just give you a brief summary here:
Belts usually have 5 holes. The variety of holes gives your body some room for changes and allows you to wear pants made of various thicknesses and to tuck your shirt in or not. Ideally, though, you want the belt to fit so that the buckle pin goes exactly through the middle hole. That will leave you with about 15cm/6in of leather to the left of the buckle once it's fastened. When in doubt, err on the short side but make sure to have enough to tuck the belt under the first belt loop. Wrapping a long tail of residual leather around your hip or having the tip of the belt hang down loosely is a no-no (the later can sometimes work for casual outfits but you really need to know what you are doing for it not to look like a fashion sin).
The only proper and logical way to measure belt sizes is from the inner edge of the buckle, where belt buckle and buckle pin meet, to the middle hole. The total belt length will then be the belt size plus about 15cm/6in.
The quickest and easiest way to get your belt size is by adding three inches to your pants waist size (some sources recommend adding 2in but we've made better experiences with 3in). That should give you a pretty good estimate. You'll also find our sizing chart in the Details & Sizing dropdown menu of every belt. Braided belts allow you to tie the belt wherever it fits the you best guaranteeing ultimate wearing comfort. That's another reason why they are a great choice for casual outfits when you want to be comfortable but still look good.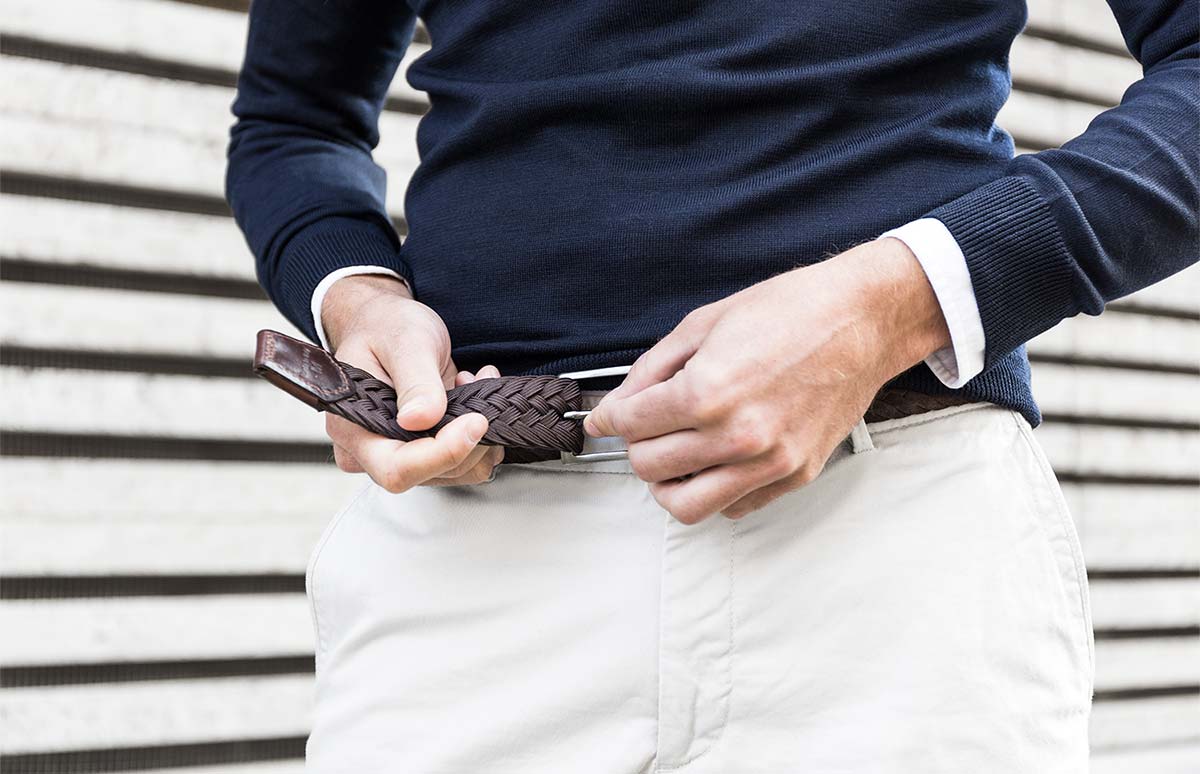 Our braided suede leather belt Edoardo
Classic vs Casual Belts
Belts typically fall into one of two categories: Classic Belts and Casual Belts. Classic belts (also referred to as dress or formal belts) are usually worn with suits or more formal attire and are always made of leather. Casual belts come in a wide variety of materials, such as wool, polyester, nylon or leather, and come in an array of different colours. As the name says, casual belts go with casual outfits.
Some belts manage to bridge the gap between classic and casual styles. Braided leather belts like our woven suede belts or our full-grain leather belts work well with both casual and formal outfits when paired correctly.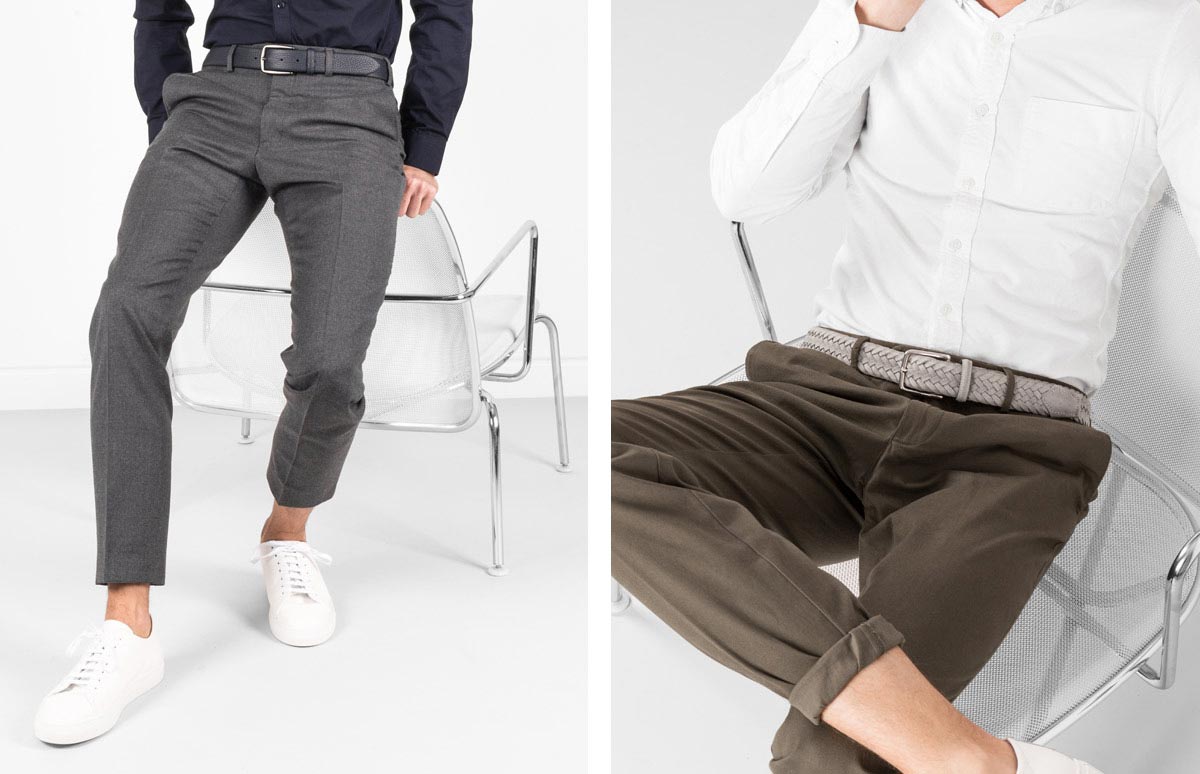 Left: Our blue full-grain leather belt Rémy; Right: Our braided suede leather belt Brunello.
Belt Processing
Belts are by no means the most complex accessory out there. Yet, there is more to belts than meets the eye. Knowing some of the technical aspects will help you pick the perfect belt for your occasion.
Width
Men's belts come in different widths which can generally be categorised as follows:
4cm/1.6in: Jeans
3.5cm/1.4in: Multipurpose
3.2cm/1.3in: Classic
3cm/1.2in: Classic
2.5cm/1in: Casual
A 3.5cm/1.4in belt offers the greatest variety of wearing options and is ideal for a more casual chic style. That is why all of our belts are 3.5cm/1.4in wide. Of course, you can also dress up or down a 3.5cm/1.4in belt if it matches the rest of your outfit. 4cm/1.6in is usually reserved for Jeans but can also be worn with other casual outfits. 3.2cm/1.3in and 3cm/1.2in are classic dress belt widths. 2.5cm/1in works well with casual summer outfits. Of course, the material of the belt plays a major role, too. So, a 3cm/1.2in braided nylon belt, for example, wouldn't be the greatest match with a suit.
Edges
There are 4 belt edge styles (from left to right): plain straight edges, raised with flattened edges without stitching, straight edges with stitching, raised with flattened edges and stitching.

Plain straight edges are the most casual looking belt style and the primary choice for Jeans belts. Flattened edges with stitching is the most classic look and often used for dress belts. Flattened edges without the stitching and straight edges with stitching are more modern belt styles which combine the best of the other two styles: they look elegant without being too formal.
Leather Layering
Many people think of belts as one thick piece of leather. Yet, that usually only applies to Jeans belts creating the distinctive rustic look. Good quality classic belts are made of two separate leather layers. As in the case of our Fernando, it is made of subtle full-grain leather at the top and full-grain vegetable-tanned leather at the bottom (also referred to as lining leather), which are glued and stitched together. The slightly raised look is achieved by inserting a slim inlet layer between the top and lining leather.

Our handmade full-grain leather belt Roberto
Tips
Generally speaking, there are 4 types of belt tips: pointed, trapezoid, straight, and rounded. Pointed and trapezoid finishes are by far the most common and are particularly popular with classic belts. A straight finish is a more modern alternative. Rounded finishes are rarely used in general but are more common for women's belts than men's belts.

Belt Material
Obviously, the material is very important. Cow leather is by far the most used belt leather. It looks beautiful, feels amazing, and is very durable. Leather from young cows is referred to as calf leather and is particularly soft and expensive. Since cow leather comes in many different forms – that is grain patterns -, shapes, and colours it can be used for dress or casual belts. Suede or Nubuck leather, that is sanded or buffed cow leather, is better suited for casual or casual chic outfits but can also be dressed up. Despite being very expensive, exotic leathers (such as alligator, python, ostrich etc.) are usually not the best choice in a business setting unless you want to attract a lot of attention to your waistline. Colourful belts made of polyester or nylon are a very popular choice for golf belts. Not only do they go well with the colourful golf attire which has gained much popularity in recent years but they are oftentimes lightweight and elastic offering the comfort needed to keep things smooth. A surprisingly great choice for summer outfits can be wool belts, especially when paired with linen.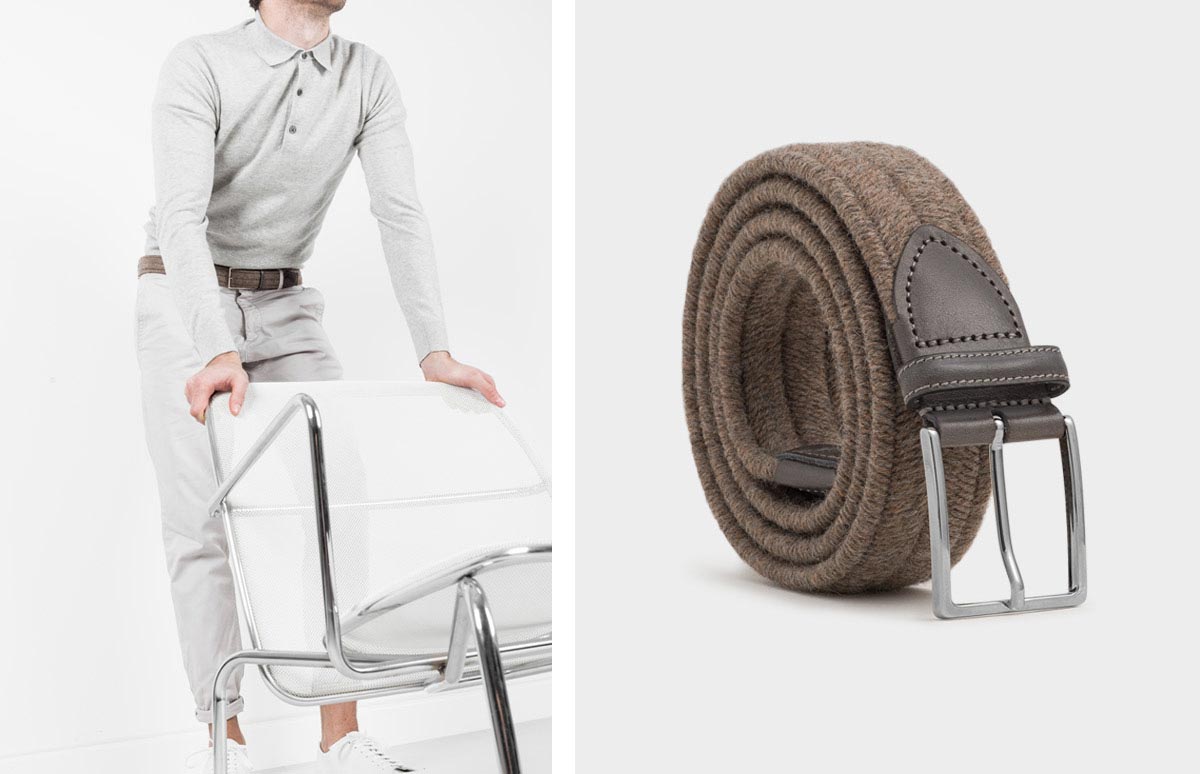 Our brown elastic wool belt Antonio
Belt Colours
Yes, of course, everybody should have a brown and black belt in their closet. And yes, the belt should match the colour of your shoes (side note: matte shoes go with matte belts and polished shoes go with glossy belts). That is especially true when wearing a suit. But not everyone is always wearing a suit and it is worth experimenting with your belt a bit. You can harmonise the belt with the rest of your outfit and let your shoes stand out, you can try to match the material of your shoes with your belt – suede Chelsea boots with a like-coloured suede belt look amazing – or you can simply spice up your outfit with a bolder more colourful belt colour, especially during the summer time.
One of the most common questions we hear all the time is: "Which belt do I pair with white sneakers?". Most men know that you should match your belt colour with your shoe colour and they don't know what to do with their white sneakers. You shouldn't wear a white belt, right? Right! Unless you are golfing, white belts are usually not the greatest choice. The answer is simple: Match the belt with the rest of the outfit. Use the belt to tie your pants and shirt, sweater or blazer together. General fashion guidelines are great. But don't get stifled by them.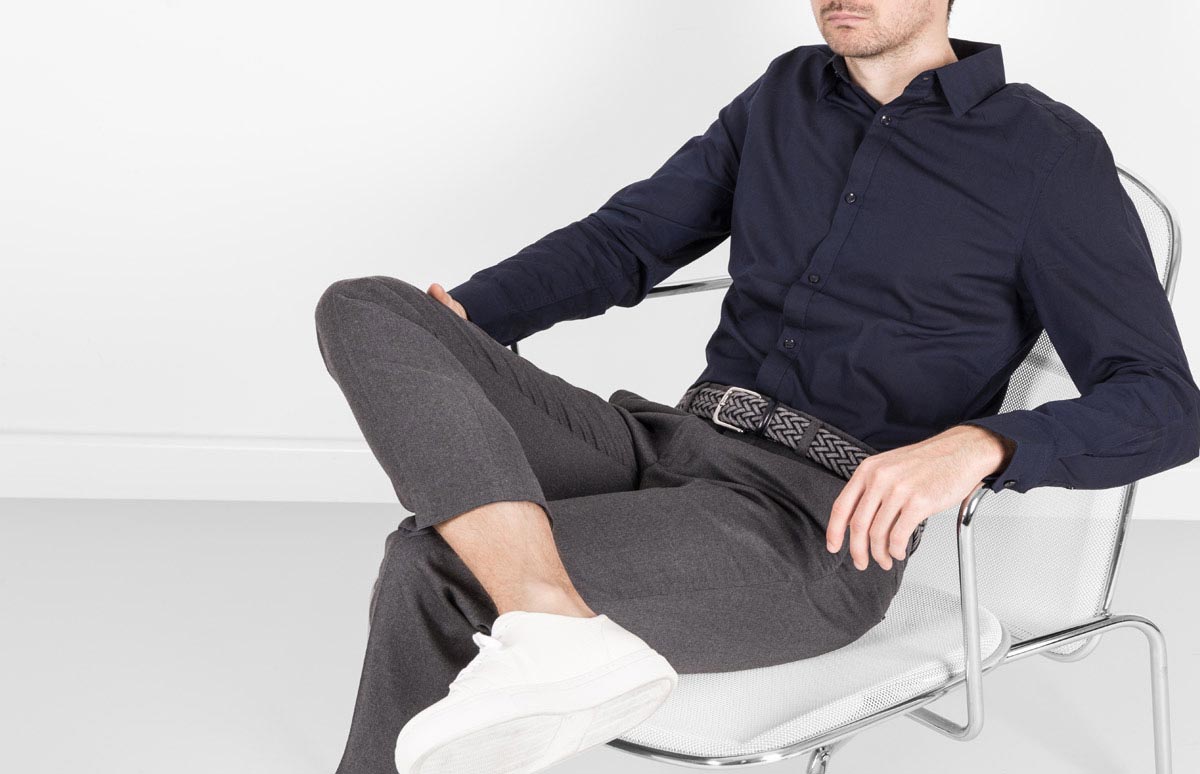 Our braided wool belt Roberto
Belt Buckle – Material, Forms and Colours
Belt buckles are usually made of either zamac or brass. Zamac is much cheaper than brass. Both commodities are traded just like gold and oil and you can always follow their price development. We use solid brass which is the staple for luxury belts. For solid brass buckles, you can usually find a "solid brass" embossing on the back of the buckle. Zamac buckles don't have any such embossing.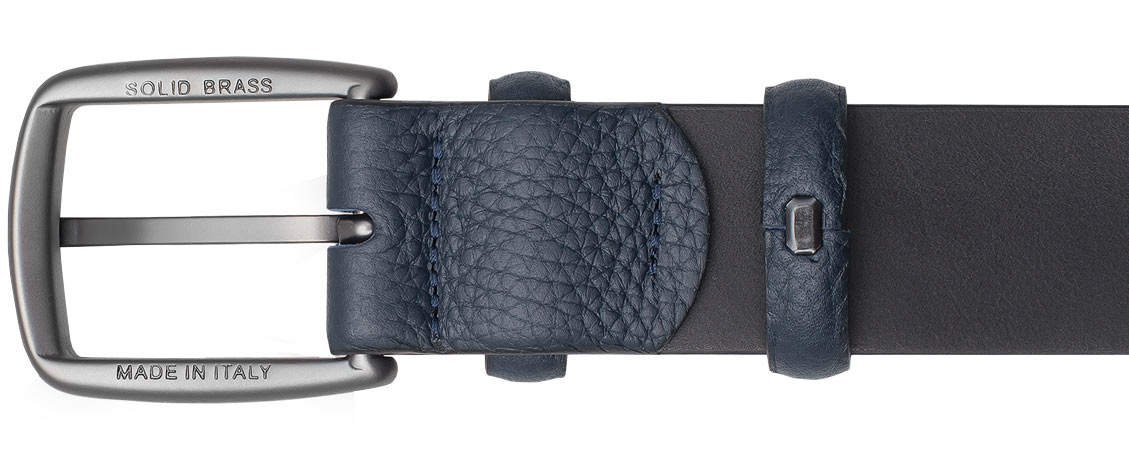 Buckles are the heart piece of any belt and they come in many different shapes and colours for all different kinds of purposes. As a general rule of thumb, the bigger the belt buckle the less formal it is. Dress belt buckles are usually small, fairly flat with a simple shape, and golden or silver. If you do wear any kind of jewellery to your suit – cufflinks, tie clip, watch etc. – the belt buckle should ideally be in the same colour family. Two-prong buckles are normally reserved for casual outfits.
There are lots of options when it comes to buckle types: From very simple frame buckles, to box frame buckles, to reversible buckles, to click-on buckles, to statement buckles you can virtually find any form you can imagine. The same goes for colours: all different hues of silver and gold, matte or shiny black, and the whole colour palette. Only offering shiny silver and gold buckles for our classic belts isn't enough for us and we are not the biggest fans of overly colourful buckles. That is why we collaborated with our Italian manufactory to create a matte light and matte dark grey buckle galvanisation which is perfectly in line with our philosophy of muted elegance. Not only does the colour look beautiful but the specialised galvanisation also gives the buckle an exceptionally smooth surface structure.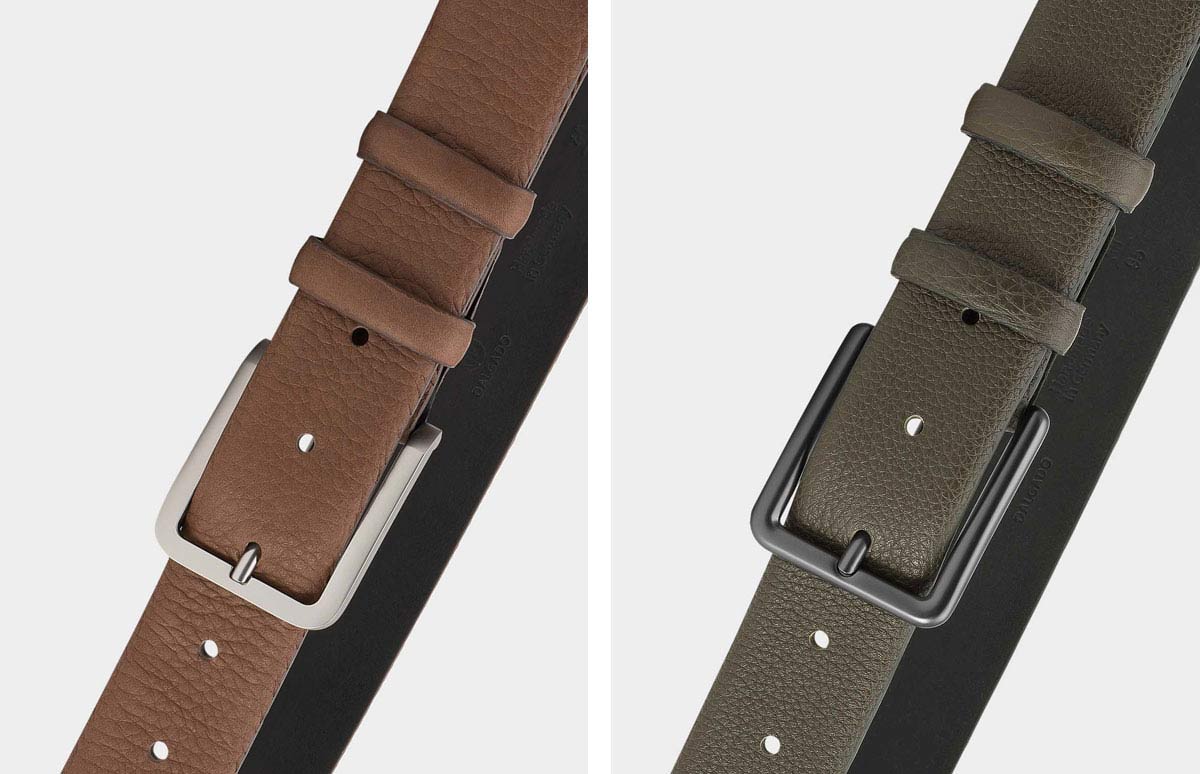 Left: Our brown full-grain leather belt Mathis; Right: Our full-grain leather belt Santiago.
Belt Quality
Last but not least, we still need to address what really makes a high quality belt.
The Leather
The leather is, of course, a defining factor. Our Leather Grade article is a great starting point to understand leather quality grades. Our Genuine Leather article tells you everything there is to know about this very frequent but highly nondescript term which is often stamped on the lining leather of belts. Spoiler alert: it only means something is actually made out of leather as opposed to faux leather. For now, just keep in mind that full-grain leather is the highest quality leather there is and the perfect choice for your next belt. It is the strongest and most natural leather grade and will develop a rich patina over time. All of our classic belts are crafted of premium full-grain leathers from some of the best tanneries in Europe who are all in compliance with the strict European REACH Directive. For a quick leather quality check, flex the belt and make sure the leather hasn't turned brittle or started cracking. If there are scratches on the leather which show a whitish colour it might be a sign of inferior quality. Good leathers are died all the way through and even with a scratch the colour will remain intact. For cheaper leathers, however, the colour is sometimes only spray-painted on the surface and the underlying natural colour of the leather might become visible when scratched. Contrary to common believe, irregularities of the grain pattern are a sign of quality, as it reaffirms the authenticity of the leather. Lastly, smell the leather. If it smells like leather, it is leather. If it doesn't, it isn't. It is that simple. For more tips on how to spot real leather, click here.

The Production
A crucial determinant of the belt quality is its production. The acuteness of the stitching, alignment of top and lining leather, and neatness and colouring of the edges are all signs of quality. Small tight stitching is desirable and guarantees durability. A perfect alignment of top and lining leather shows neat production. Clean and straight edges, especially by the tip, as well as flawless colour-coating of the edges is the result of detail-driven craftsmanship. Belts can either be produced by machine or by hand. As it is almost always the case, the quality of handmade products is inimitable. That is why all of our classic belts are handcrafted in a renown German manufactory which has been specialising in the belt production since 1825. Of course, machines are used for parts of the production but most of the steps are done only by hand.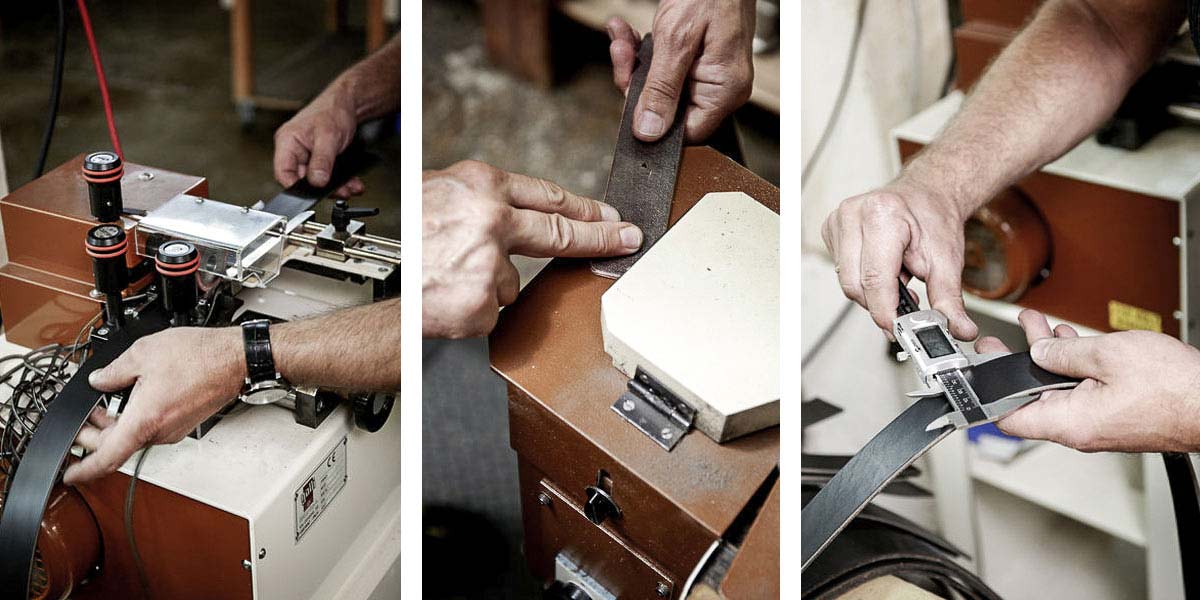 The Price
Quality comes at a price and good leather is expensive. So, it is highly unlikely that really cheap belts are of high quality. Yet, looking at the other end of the pricing spectrum, it does not mean that overly expensive designer belts are superior in quality compared to belts in the medium price segment. That is simply the halo effect: it is expensive, it must be good. Even though most designer belts are of good quality you are primarily paying for the brand name. We seek to combine the best of both: premium quality belts and honest prices. By cutting out unnecessary middlemen, retailers, local stores and expensive branding we manage to offer handmade designer belts at half the usual retailing price.
Buckle Up
Now that you have become a belt expert it is time to put your new knowledge to use. Explore our complete collection and let your belts make a fashion statement. If you ever have any questions or can't decide which belt to choose, please don't hesitate to contact us.