All YOU NEED TO KNOW ABOUT SAFFIANO LEATHER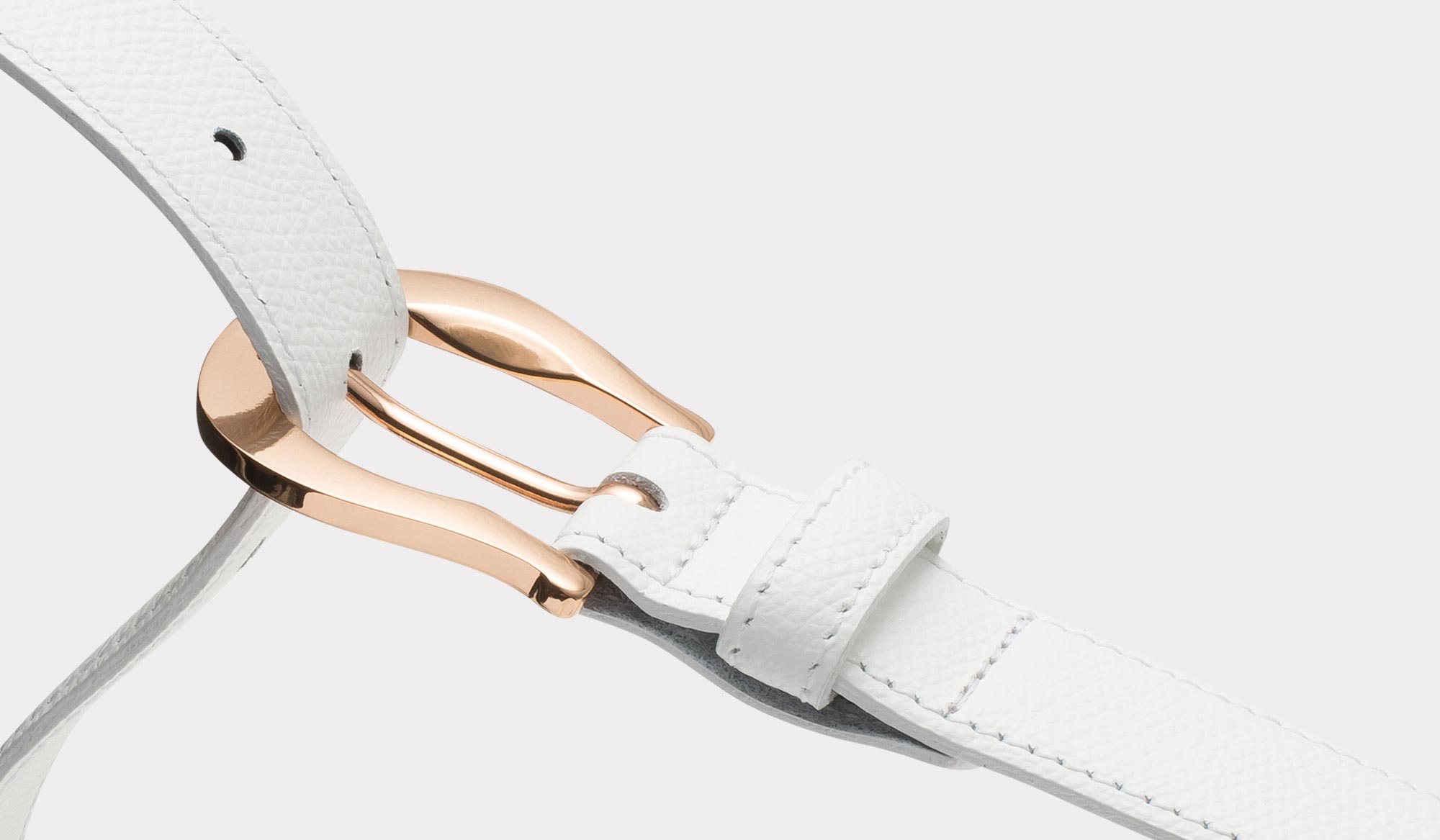 Our white Palmellato leather belt Stella.
Most people are familiar with Saffiano leather which has become very popular in recent years. Even though the leather was used exclusively by Prada for decades, it found its way into the bag, wallet, and belt collections of many labels like Michael Kors, Tory Burch, Coach, and Longchamp to name just a few. The leather has gained such tremendous popularity because it combines exceptional durability and stain resistance with elegance and class.
Only fashion and leather experts, however, are familiar with Saffiano's close cousin: Palmellato leather. Palmellato strongly resembles Saffiano leather in its durable properties and appearance with a slight distinction in its surface pattern making it a much rarer find. That is why we decided to choose Palmellato leather for some of our women's classic belts. Continue reading, to learn all about the similarities and differences of the two leathers, how they are manufactured, and how to care for them.

Left: Saffiano Leather; Right: Palmellato Leather
History and Production
As it is the case for most inventions in the fashion world, Saffiano leather originated in Italy where it was allegedly invented by Mario Prada himself. Prada patented the new leather optic and has used it for many of its most successful bags ever since. Once the patent expired, other brands started using Saffiano leather as well.
Saffiano leather is famous for its diagonal lines and cross-hatch pattern which are machine-pressed into the wax coating of the leather giving it a slight sheen. Leather which gain their grain pattern by this kind of stamping method are also called "textured leathers". Saffiano leather can be made of faux or genuine leather. Due to the coating, cheaper corrected leathers – which are a grade of genuine leather - are often used, as imperfections of the hide will be hidden. To read more about corrected leathers, click here.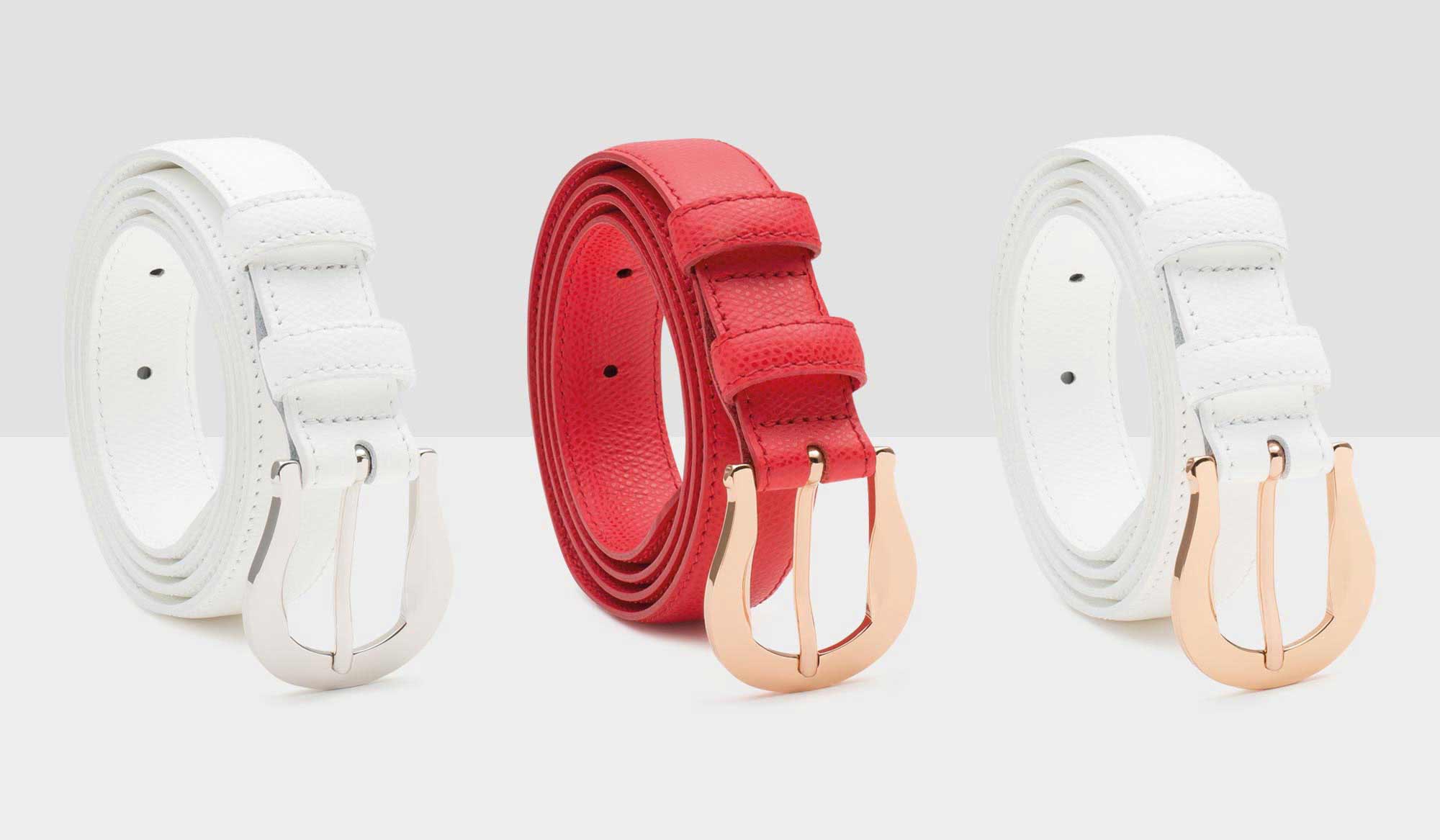 Three of our Palmellato leather belts: Clara, Chiara, Stella.
After the leather was heated to about 70°C, the Saffiano or Palmellato pattern is machine pressed into the leather for 10-15 seconds and finally treated with a protective wax finish rendering the leather very resistant to stains, scratches and water. The only thing which could really harm these textured leathers are very sharp items which can cut through the wax finish. Apart from the enhanced durability, the coating gives the leather its unmistakable subtle sheen and allows for the creation of a great variety of colours.
Over time many similar yet slightly different surface optics developed. Palmellato was one of them. The main difference to Saffiano is the slightly rounder grain pattern making for a more uniform look. Just like Saffiano, Palmellato is very resistant to stains, scratches, and water while maintaining an elegant appearance. Due to these unique attributes, many high-end fashion houses use Saffiano or Palmellato leathers for their products.
Care Instructions
Palmellato and Saffiano are not only very durable but also relatively easy to clean. However, make sure to search for any care tags with specific instructions before trying to clean your Palmellato or Saffiano product. If no cleaning instructions are present or if they prove ineffective, you can try out following care instructions at your own risk.
First things first: Empty your bag, purse or wallet before starting to clean it. No matter which cleaning option you go with, always keep in mind that your selected option might harm the leather. Therefore, we recommend to test your chosen cleaning method on a concealed area of the item and to let it dry before applying that cleaning method over the entire area. Also, check the surface of your cloth, brush or sponge in order to see if you are removing any colour from the leather. If so, stop immediately and choose a different cleaning method.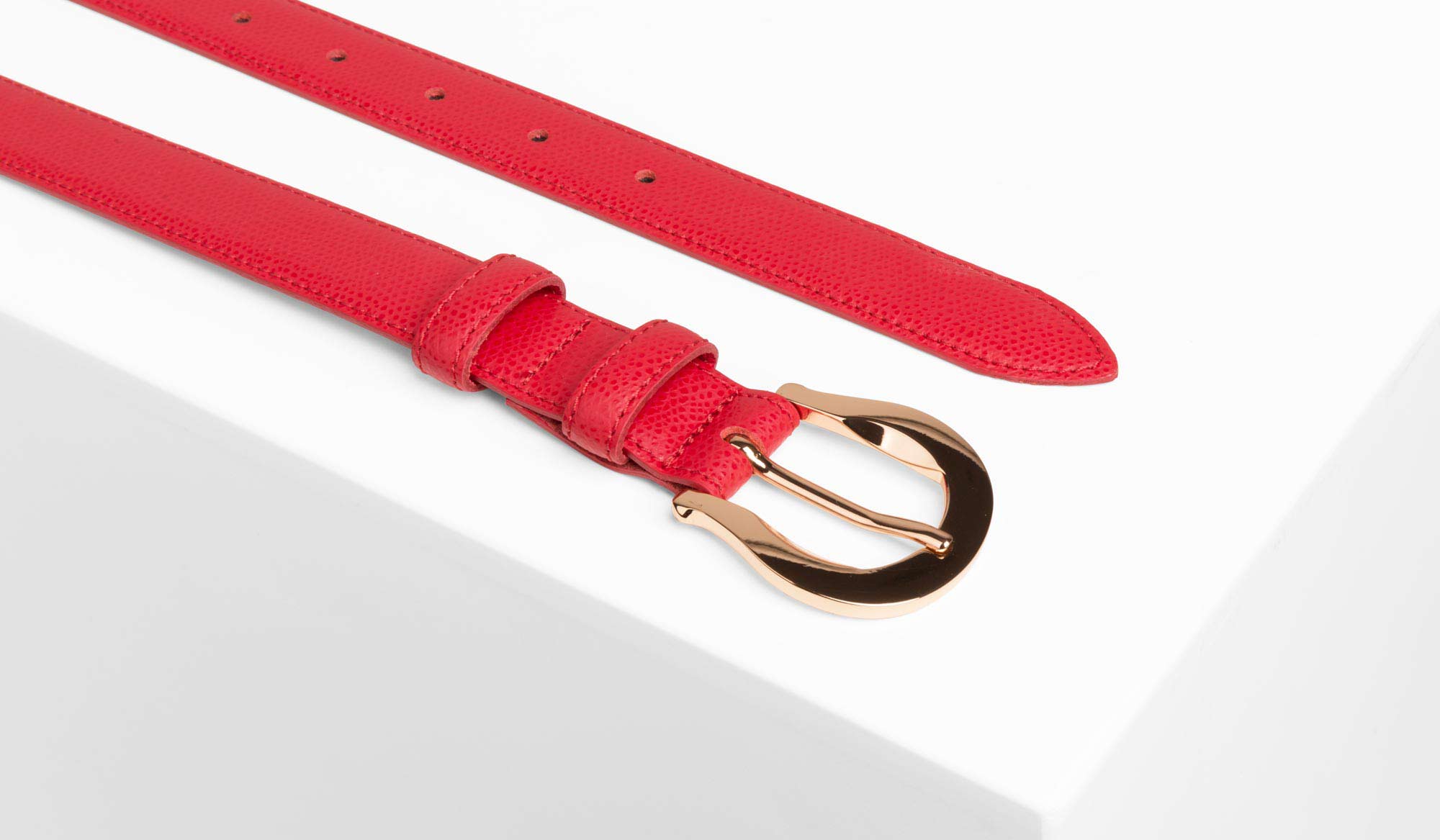 Our red Palmellato leather belt Chiara
In case of lighter stains or dust, use a soft cloth which is slightly damp to remove the dirt. An excellent alternative are baby wipes, as they are very gentle. If you should experience difficulties cleaning the dirt in the groves of the grain pattern, use a slightly damp soft brush instead. Be careful not to press down on the leather too much though, as it might harm the slight sheen of the leather and the grain pattern. If you have a more serious stain which could not be removed with any of the aforementioned methods, you might have to buy a specialized stain remover for the exact kind of stain you are facing. Make sure to use a stain remover which is approved for use with Palmellato or Saffiano leather.
For any of these options, we advise to clean the leather with the grain pattern. Allow the leather to dry naturally at room temperature, ideally, in an area of dry air flow and away from any heat sources. If you are dealing with even more severe stains, we recommend seeking the services of a professional leather cleaning expert. It'll be worth it.

Our red Palmellato leather belt Clara.
Use and Storage
Most premium leather goods come with a dust bag. Make sure to use that bag whenever you are not using your product. That way it won't collect any dust or dirt and it is safe from any accidental spills. Also, be sure to store your Saffiano or Palmellato leather product in an area away from direct sunlight, radiators or excessive changes of heat, as it might change the colour of the leather or modify its shape over time. For Saffiano or Palmellato bags, put some old newspapers inside it when you don't use it so it maintains its original shape for as long as possible. You can also use a leather conditioner which is suited for Saffiano or Palmellato leather in order to keep the leather soft. All this might sound quite inconvenient but long-term joy with your product will be the reward.