CLASSIC VS. BRAIDED BELTS
The Knowledge
In the belt world, there are 2 main types: classic and braided belts. Both have been around for many years and look best in different situations. We are going to take a closer look at their respective characteristics, give tips on when to wear which, and explain how to blend them with an outfit.
Classic Belts
Classic belts have been around longer and are always made of leather. As the name foreshadows, classic belts work best with formal wear. Yet, there are nuances as well. A general rule of thumb says the smoother the leather, the more formal the belt. So, patent or smooth leather is more formal than suede, nubuck or grain leather.
It is very common for classic belts to have fine stitching or flattened edges and a simple silver buckle, which gives the belt a more refined look compared to a Jeans belt with straight edges and bulky buckles. When it comes to width, classic belts are slimmer with a strap width between 3-3.5cm/1.2-1.4in whereas Jeans belts will have a strap width of 4+cm/1.6i+in. Belts below 3cm/1.2in also fall in the more casual category.
Braided Belts
Braided belts are the more casual alternative to classic belts and offer a vast array of colours, patterns, and materials. The most formal option amongst woven belts are braided belts made of smooth leather such as our hand-braided belts. One step down, are braided suede belts. It is the perfect blend between casual and formalwear making them extremely versatile and especially applicable to a casual chic wardrobe. Next down the ladder are monochrome viscose and wool belts. These kinds of belts are a bit too casual for formalwear but render themselves nicely for smart casual outfits and casual outfits. Lastly, there are multi-colour viscose belts which are best paired with casual summer outfits.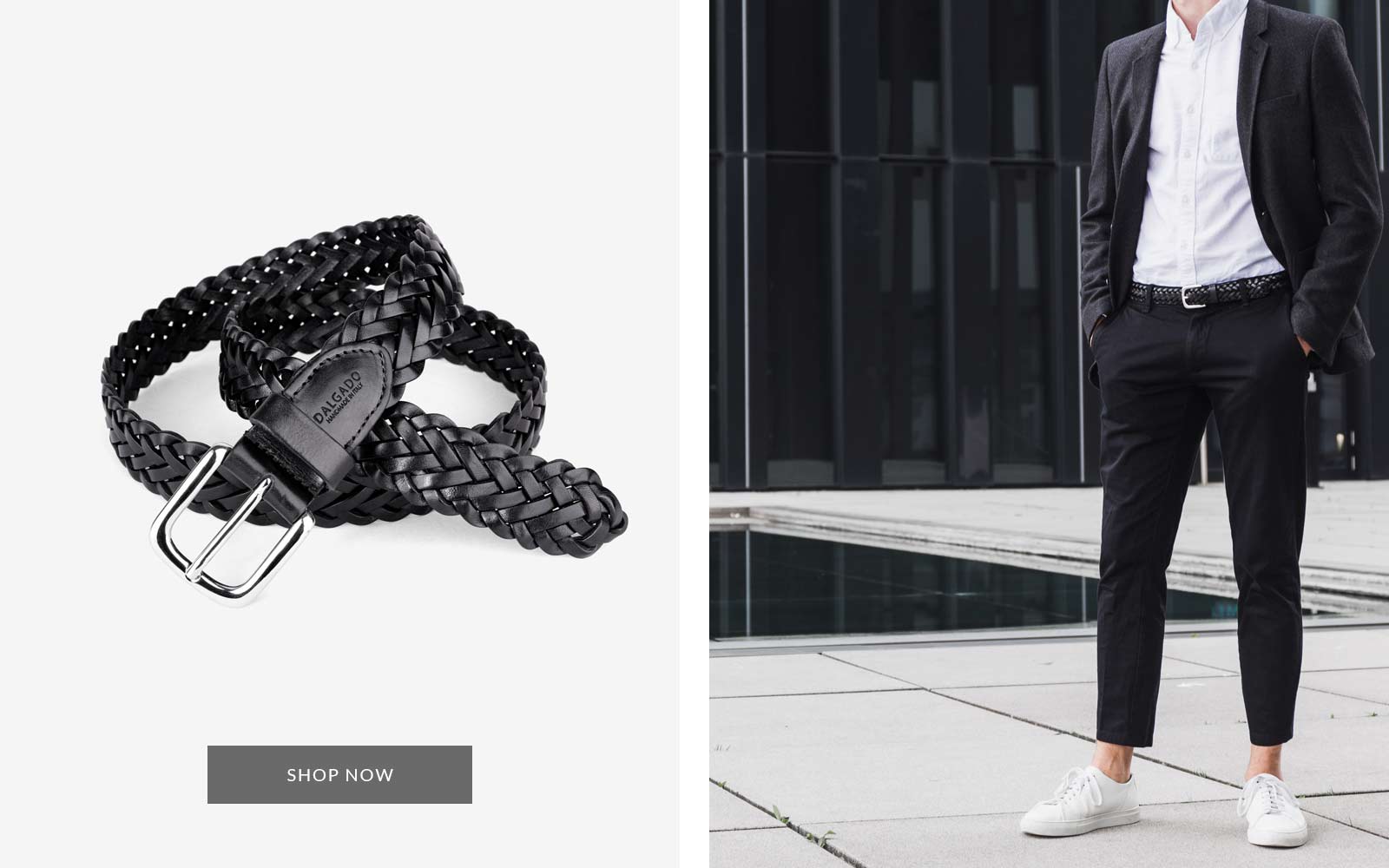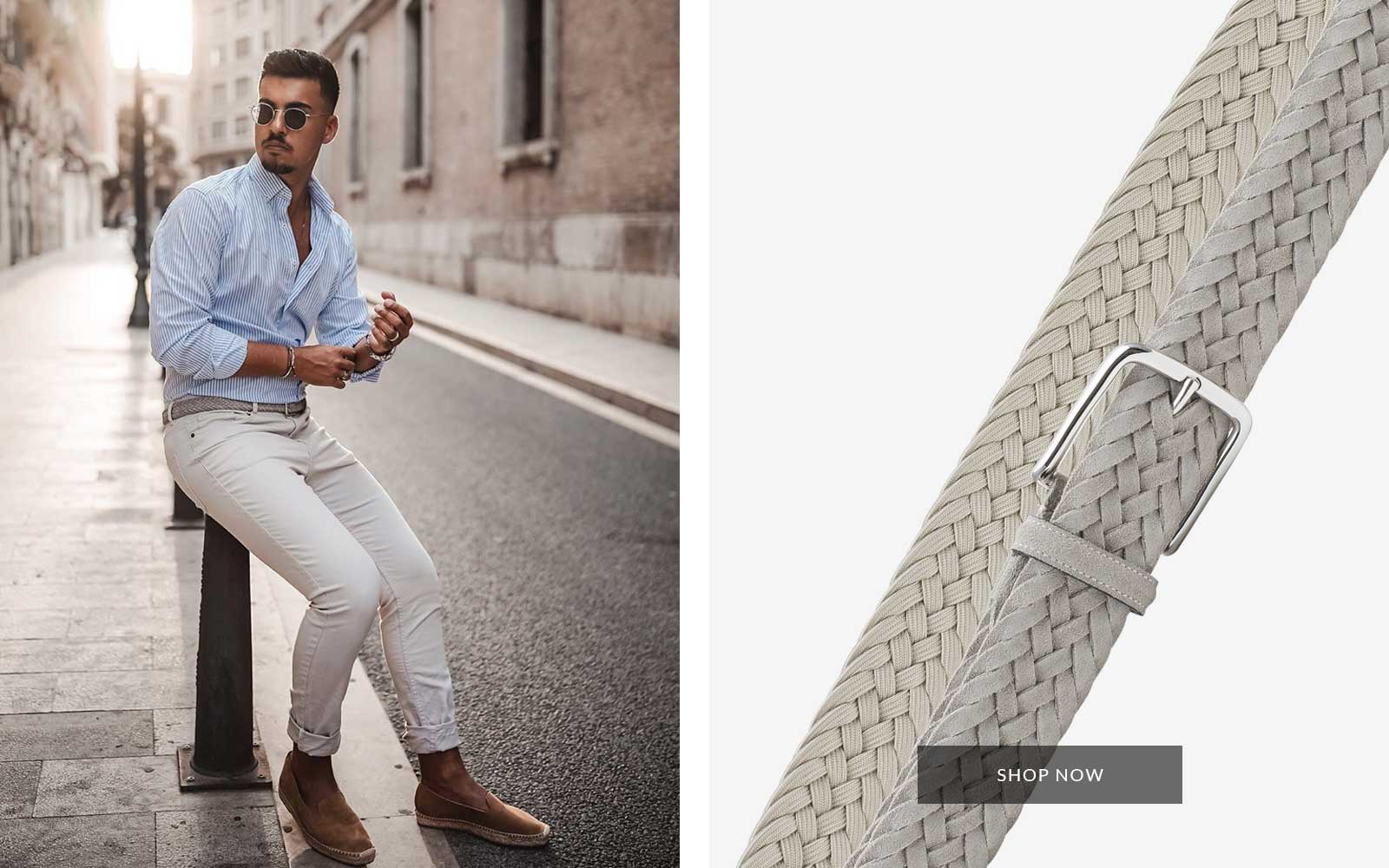 When to wear what
As with fashion in general, it is best to choose your belt and its texture depending on the occasion. Black tie event or official work meeting in a more traditional industry? Go for a thinner smooth or patent leather belt. More casual work set-ups which calls for a smart casual wardrobe? Go for classic suede belts or slightly wider smooth leather belts, braided leather belts, or monochrome viscose belts. Summerly or casual outfits? Lean towards braided suede belts, multi- or uni-coloured viscose belts, and jeans belts.
Pairing shoes and belts
It is no secret that pairing shoes and belts in formalwear is an unwritten rule. Why, you might ask? The answer is simple: it looks good. It frames your outfit nicely and lays a very solid foundation to build on. But does that mean that pairing shoes and belts is also a good idea for more casual outfits? Again, the answer is simple: yes! Why wouldn't it be? The guideline to match shoes and belts has existed for decades because it looks good. So, use it to your advantage. Simple dial down the formality of your shoes and match the belt accordingly.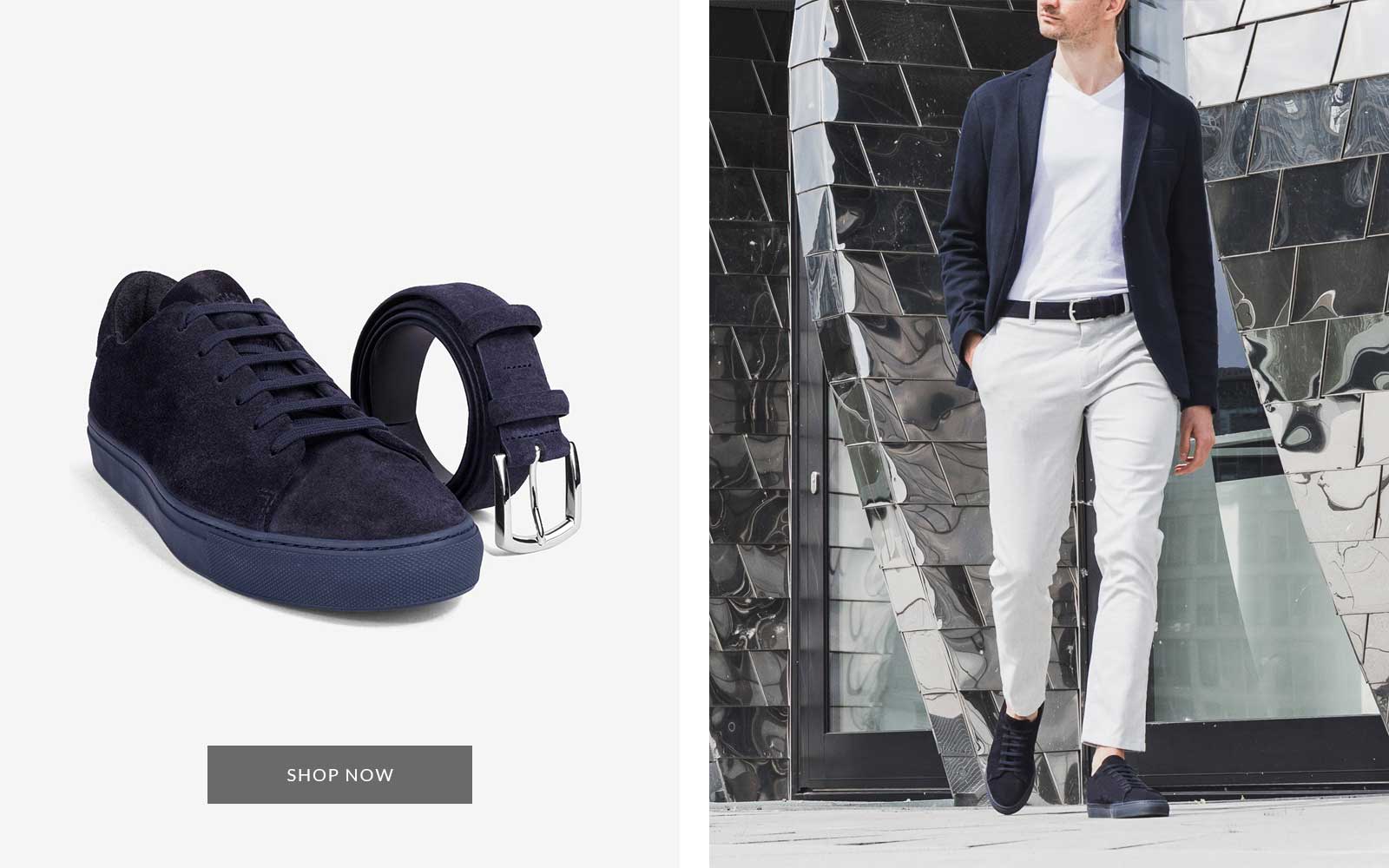 To make things as easy as possible, we have a matching classic and braided belt to every one of our sneakers. You can even find matching viscose belts for those casual summer outfits.
For an in depth guide to belts, check out our ultimate belt guide.