IN CONVERSATION WITH KOIZTRA
10th March 2019
Our braided Suede belt Francesco, curated by @koiztra.
If you are interested in men's fashion and photography we have someone we would like you to meet - Kars Kooistra aka @koiztra. We've been following him on Instagram for quite some time now and are big fans of his work. His style is influenced by Scandinavian fashion so you know you can expect a lot of basic colours and minimalistic styles. He specialises in flat lays where he curates up and coming as well as more established brands that share his values of design, quality and craftsmanship. So, this week, we spoke to him about his fashion philosophy, style tips and his hometown Amsterdam.
First of all, what should Men's fashion be?
Effortless, empowering, good quality fabrics.
Your feed embodies the philosophy of the understated chic. Where does your passion for a minimal wardrobe come from?
It's the feeling I get when I wear something that looks simple but the details show it's true nature. I really appreciate the fact that designers put a lot of thought and love in designing an item that doesn't use a flashy Off-White or Supreme logo to sell itself. No it is the use of the right fabric, it's construction, it's timeless look that appeals to me. It really is less is more.
What made you decide to start your Instagram account and what are the challenges you are facing?
I have always been interested in photography and fashion and I found Instagram to be the ideal platform to combine these two interests. I think the biggest challenge always is how do you evolve? I shoot flat lays, so how do I keep these interesting for myself and my followers overtime. Especially with flat lays this can be hard, you either need a gigantic wardrobe or new ways of displaying your content.
What's your go to outfit when you are pressed for time?
Definitely white sneakers, grey toned trousers and a navy blue knit.
What is your most admired piece of simple timeless design?
It's a very simple Pulsar watch that I own. It has a clean white dial plate and a simple black strap. It has the most value to me as it was the watch of my grandfather who has always been my hero, and with the watch being more than 65 years old I am really happy and appreciative of the craftsmanship as it still works like a charm.
Which style tip would you give others?
Buy less but buy better. And make sure it fits!
You've got 100€, what will you spend it on?
I can't decide so I'll mention the few things that come to mind. As it's still cold here I need a good pair of gloves, I also have an issue with all my electronic gadgets scattering through my bag so a leather pouch for that or the new Asket Raw denim jeans.
Amsterdam is an extremely picturesque city. Are there any spots in particular where you like to go and take pictures?
To be honest I hardly take pictures in Amsterdam. It's so normal to me that I sometimes don't see the beauty of it. But if you visit Amsterdam, the canals are always a good spot, the area of the "negen straatjes" which has beautiful old architecture and great boutiques.
The Finishing Touches. What are the most important accessories?
Every man should have a great fragrance, timeless watch (don't go Apple watch please), a great belt and if you are into it a very subtle bracelet. And for the summer add a pair of classic Ray Ban's.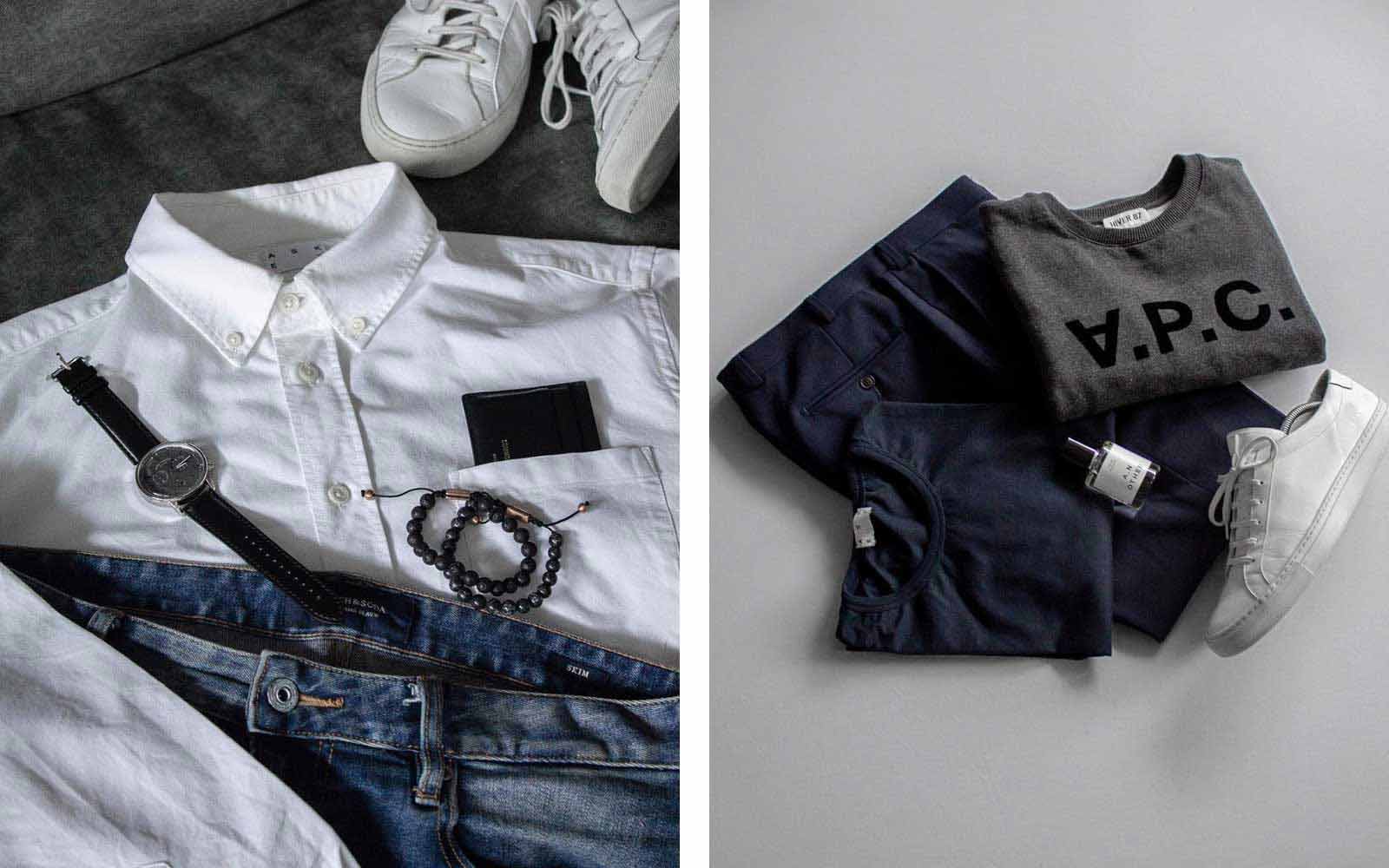 You have been using our Francesco belt. What is it that you like about it?
It's the effortless chic look! It's just the right tone of grey, the material is of such a high quality and I just love braided belts. I believe they are the perfect belt style for a smart casual look!
You are currently specialised in flat lays. Do you have plans in the future to extend your picture palette?
I want to experiment with more depth in my shots, different backgrounds and more detailed shots. I don't see myself moving into "lifestyle" or "full body" shots. These take more time and more dependencies for a great outcome. One of the benefits of flat lays is that I can plan a head and shoot multiple outfits at the same time. This helps tremendously with being able to consistently post, which I believe is very important.
Finally, what are three of your favourite Instagram Accounts?
I don't really have favourites as there are so many amazing accounts. But these are ones that have really impressed me and got me buzzing:
1. @Qrissnead: He has such a minimal style, and a cool mood in his shots. Love how he plays with shades and the colour of his locations
2. @perpetualpaces: Just look at his feed. I'm just in love with the photo's, the vibe he and his better half @perpetualplaces create and edit of the photo's.
3. @theaestheticminimalist: If someones get's understated chic then it definitely is Val Lin. Besides being jealous of his wardrobe he has a great eye for composition and always creates interesting shots.
We also gave an interview, which you can find on Koiztra's website. Also, check out Koiztra's Instagram and give him a follow. He clearly deservers it.