MATCHING MINIMALIST BELTS & SNEAKERS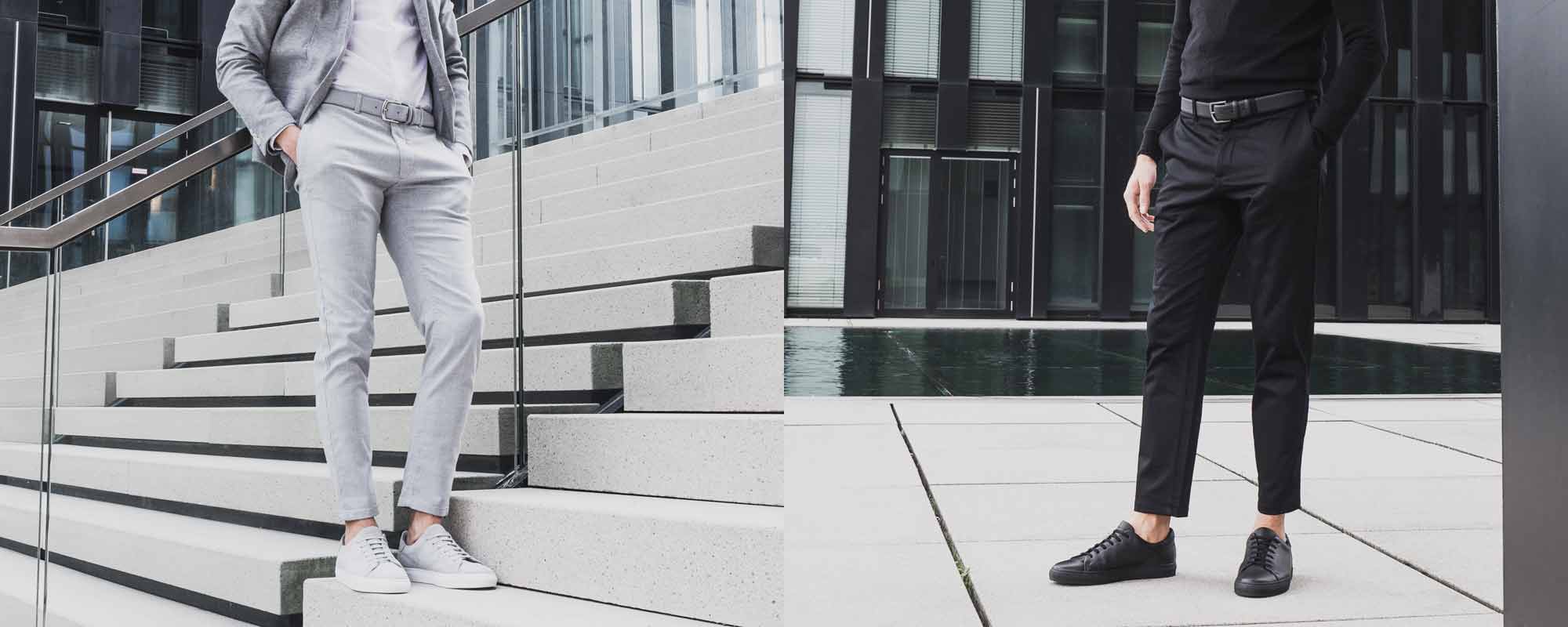 Düsseldorf, September 4th, 2019 (for immediate release) - Dalgado is proud to announce the launch of its collection of matching minimalist belts and sneakers on Kickstarter.
"Working in the men's dress shoe industry for almost 2 years, I noticed that with fancy dress shoes everyone pays attention to colour-matching shoes and belts", said Jan Jülicher, co-founder of Dalgado. "When it comes to sneakers, however, nobody seems to care. Just because you want to be comfy doesn't mean you can't still be looking good. Sneakers are here to stay and will become more and more prominent in business settings. So, it only makes sense to accompany your sneakers with the matching belt to give your outfit the attention to detail and air of professionalism it deserves".
In line with the overall brand philosophy, the sneakers are kept in a minimal design with muted branding to highlight their clean silhouette and let the leather speak for itself. The sneakers are handcrafted in Portugal and the matching belts in Germany. Both manufactories are community-orientated family-run businesses with almost 200 years of combined experience in their respective craft.
The leathers are the cornerstone of the belts and sneakers. In partnership with some of the most renown European tanneries which also supply many of the top luxury houses, the leather goods are not only timelessly designed but also made to last.
"One of the main reasons why we started Dalgado was a deep frustration with excessive mark-ups and a lack of information regarding input materials in the fashion world", said René Jülicher, co-founder of Dalgado. "We know there had to be a better way and we have nothing to hide which is why we are radically honest about our suppliers, materials and even pricing structure so our customers know exactly what they are getting for their money".
All leathers used are waste products of the meat industry as well as REACH compliant and the production process is chromium-free. In its continuing effort to reduce its environmental footprint, Dalgado is further extending its already existing One Belt - One Tree Initiative and pledges to plant one tree for every belt or sneaker pledged on Kickstarter.
Sneakers of this comparable quality and provenance usually retail at about 295€. On Kickstarter, the sneakers can be pre-ordered starting at 119€ and the matching belt at 59€. Bundle deals come with free add-ons such as laces, socks or care products.
For more information, take a look at our Kickstarter Campaign or Website Dalgado.
Here you can download our Press Kit.
About Dalgado
Dalgado is a Düsseldorf based accessories brand which was founded by René and Jan Jülicher in 2017. Since then, the brand has made a name for itself by giving belts a modern makeover and making premium table-cut gloves available at honest prices. Now, Dalgado is ready to take the next step.
###
Media Contact: Jan Jülicher (co-founder) | j.juelicher@dalgado.de